Resources used for the research and notes on this marvelous project:
Book: 'Caffeine and Nicotine' by Richard S. Lee and Mary P. Lee
Rosen Publishing Group Inc. NY 1994
Reference: 'The Complete Canadian Health Guide' June Engel
Keyporter Books published 1993
Spotted an error? A typo? Have a complaint? I don't wanna hear it.
Got a compliment? Want to send me money? Email me.

Just click this address to send me mail:
Caffeine gum?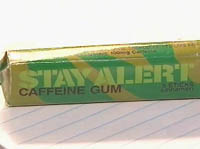 Weird...