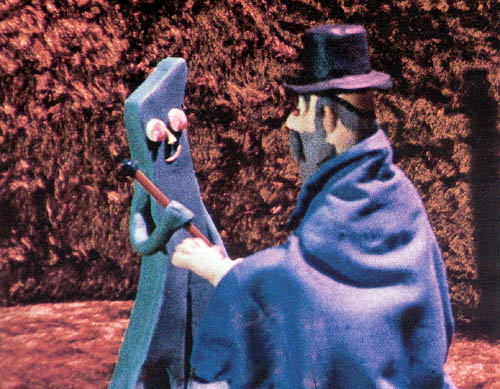 Exactly what kinda style of art would someone with the name Art bring? Look no further, and meet Art Clokey and his wonderful and inspiring creations. His most famous being Gumby, a real classic.

In the early 1950's, Art Clokey produced commercials for Andersen's Pea Soup using elements of stop motion and live action. Coca Cola and Budweiser saw these and hired Art to produce a series of spots featuring their products. These commercials used slap stick humor a la Buster Keaton and Charlie Chaplain.

In 1955 while studying under Slavko Vorkapich at USC Film School, Art produced a student film called Gumbasia. It was clay animation shot to the beat of jazz music. Art showed this to Sam Engel of 20th Century Fox. Sam paced the floor a few times and then said: "Art, that's the most excting film I've ever seen. We've got to go into business together." Sam then asked Art to produce clay figurines for childrens' stories.

Art Produced a pilot with a green clay character called Gumby, and the rest is history. Art always refers to Sam Engel as the Godfather of Gumby. Sam did not want to make money off of it, he just wanted to improve children's TV. Art and Ruth Clokey had met at Hartford Seminary school Studying religious education. Their values created the passion for the wildly popular Gumby and Davey and Goliath to come.