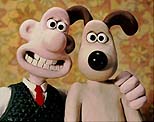 * Art Clokey brought clay amination to the forefront with two characters Gumby and his side kick Pokey. These characters were developed with children in mind focusing on real values and telling stories with heartfelt meaning. The series ran from 1956 - 1963.
* Ray Harryhausen created Jason and the Argonauts in 1963 which includes the famous animated skeleton sequence that took 4 1/2 months to create
* In 1985 The Adventure of Mark Twain was produced by Will Vinton as a stop motion animated movie.
* In 1986 Will Vinton creates the California raisins as part of a television commercial.
* In 1988 Will Vinton produces Meet The Raisins as a stop motion animation with some conventional animation for television.
* In 1989 Wallace and Gromit are introduced as the characters in the stop motion animated short A Grand Day Out produced by Nick Park.
* Nick Park won an Academy Award in 1991 for Creature Comforts which featured plasticine models of zoo animals involved in 'real' human conversations which had be pre-recorded.
* In 1992 Ray Harryhausen received a special Oscar for inspiring an entire generation of animators and special-effects artists
* The stop motion animated short The Wrong Trousers - an Oscar winner, stars Gromit and Wallace and was produced by Nick Park in 1993
* In 1993 Harry Selick directs the feature length claymation The Nightmare Before Christmas.
* Wallace and Gromit star in A Close Shave - an Oscar winner, which was a stop action animated short produced by Nick Park in 1995.
* The claymation movie James and the Giant Peach is directed by Henry Selick in 1996 with leading roles by Joanna Lumley, Miriam Nargolyes and Paul Terry.
* In 1999 Walter Williams produces the claymation movie Saturday Night Live - The Best of Mr. Bill. Mr. Bill can never escape being crushed by something.
* In 2000 Nick Park and Peter Lord direct Chicken Run - an animated movie starring Rocky and Ginger in a feature length claymation.
* Nick Park directs the feature length claymation The Incredile Adventures of Wallace & Gromit in 2000.